Hold Em Manager is one of the most powerful software products on the market for online poker players to take advantage of. The latest versions of the program- Hold'em Manager 3 and Omaha Manager 3 are major tools in the arsenal of any poker player today.

No matter, whether you are just starting with the game or have some experience the software will give you a significant edge against the players who doesn't use it.
It's an essential weapon that will help you with your poker training. These days the competition is really tough and long gone are the days when it was super easy to win thousands of dollars without decent skills and knowledge.
Taking advantage of software tools plus examining your game with a professional poker player is the right way to approach the game.
Learning poker is a never-ending process and Hold Em Manager 3 is made to make our lives easier. It is designed and developed by poker players and for poker players with one simple goal to help you improve your poker results through informed decisions.
Below you can find is more info for those of you not fully aware of all the merits of Hold Em Manager.
Basically, it helps you follow your progress as a poker player in all possible aspects. Be aware of your bankroll, find the mistakes you make most often, analyze the crucial hands that knocked you out of a tournament ( or gave you the first place) and ultimately improve your game. Some of the most useful functionalities include:
Here Are Some of the Key Holdem Manager 3 Features:
Heads up Display
You can choose either from a pre-configured Heads up Display (HUD) or build your own. The HEM 3 HUD shows statistics on how your opponents have played against you in previous hands, tournaments etc. This information is crucial when making decisions in real-time. There are also pop-up windows integrated into the HM3 HUD. These windows allow you to take a deeper look to even more detailed information about your opponents and their tendencies.
Live Play View
This function provides several important elements of feedback while you are playing:
Session graph and customizable Key Stats for the active session;
You can click on any hand in the right side view and it will be replayed;
When you have an important hand during live play, you can quickly mark it to review it later after your session;
You are able to see how you are doing on each individual table you are playing.
Post Game Analysis
HM3 presents you with a powerful set of tools to review your game, identify and fix leaks. There are more than 25 default reports including:
By Stakes;
By Stack Size;
By Session;
By Position and more
You can even compare your results vs. particular opponents. Select from several thousand stats available in order to customize any report and get the most out of it.
Situational Views
Benefit from collections of several mini-views with key situations. All incorporated within a single dashboard. For example, there are situational views for CBetting, 3-Betting, Tournament All Ins, River-Play.
Powerful Hand Filters
The industry-leading filtering options allow you to go over specific hands by applying various filters (by position, stack, player and many more). They can be combined in order to get the most from the program and analyze your game to the slightest detail. HM3 filters make it much easier to navigate and explore through the database with fancy graphic-based filtering elements.
Visual Opponent Feedback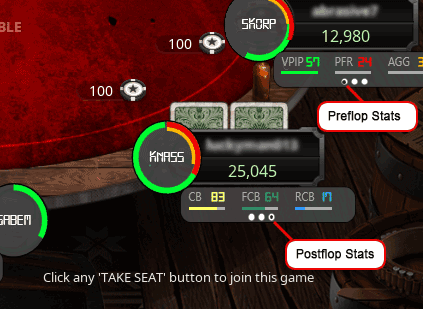 For all of you who enjoy visual simplicity, HEM 3 have introduced the Graphical HUD. Thanks to the rings in this HUD, you have a simple but at the same time effective visual snapshot on an opponent.
The Green-Red ring shows the preflop activity of a player. When more of the circle is completed, this means he plays more hands preflop i.e. his VPIP % is higher. If a higher percentage of the ring is coloured in red this is a sign that the player raises more often preflop i.e. his PFR % is higher.
The inner Orange ring shows the Aggression % postflop. When you have a higher % of the orange ring complete, the more aggressive is your opponent.
Finally, the Blue line under player's alias indicates how large is the hand sample of that player i.e. how many hands he has played.
Visual Replayer
The updated HEM3 Replayer includes several new features like:
– an option to show the amount in big blinds;
– choose between multiple table themes and card decks;
– stats exactly as seen when the hand was played;
– a brand new graphical pot size indicator which allows selecting hands within a session or sample.
HM Apps
There are a few add-on tools to get the maximum from your HEM3. 3rd party developers are now able to integrate additional features and tools straight into the HM3. At the moment HM3 Apps included:
– TableNinja II which helps you play more tables with less effort to prevent fewer sit-outs;
– Notecaddy (coming soon) which takes automatically relevant and helpful notes for you. It can read and analyze hand histories and take notes based on your opponents' behaviour;
– Hand Grabbers to auto import real-time hand histories from websites that are not otherwise available (Ignition, Bovada, Bodog).
Supported Sites & Languages
12 major poker networks are supported in HM3 including:
Poker Stars, Party Poker, Microgaming, Ipoker, Merge Network, Pacific/888, Boss Network, Winning Poker Network, Peoples Poker, Winamax, Bovada/Ignition/Bodog, PPPoker and Poker Kingdom.
To make HM3 a global choice for players all over the world, HM3 versions are available in 14 popular languages:
Chinese, English, French, Dutch, German, Spanish, Italian, Polish, Portuguese, Portuguese (Brazilian), Romanian, Russian, Slovenian & Japanese.